IELTS Speaking Test
On this page, you will find information about the IELTS Speaking Test Format, including: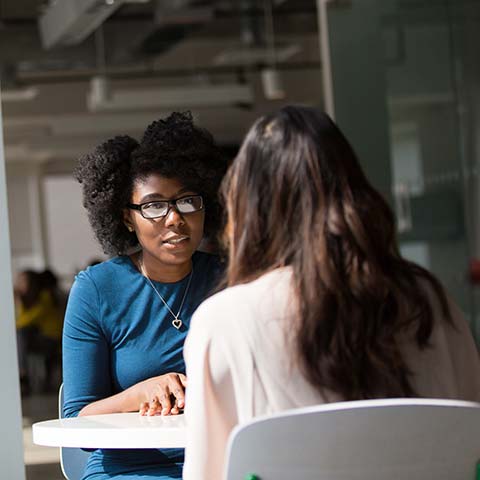 IELTS Speaking Test Format
The speaking test consists of an interview between you and an examiner. It will last between 11 and 14 minutes and is divided into three parts.
Note! IELTS Speaking Test is the same for both the Academic and General Training module.
Speaking Part 1
4-5 minutes
This part is about yourself. The examiner may ask about your home, family, work, studies, job, particular interests, sport, hobby, past time, future plans and so on. This part is designed to help the examiner understand your background and assess your ability to communicate about familiar topics.
See more

→
Speaking Part 2
3-4 minutes
You will be given a cue card with a task and asked to talk on a particular topic. You will be given a pencil and paper to make some notes and you will have one minute to prepare before speaking at length, for between 1-2 minutes.
This is how the task prompt you are given usually looks like:
Describe a time you visited a friend's home for a special reason.
You should say:
when you went
who you visited
what you did there
and explain why you visited your friend's home
This part of the test is designed to assess your ability to organise your thoughts and ideas and communicate them effectively in English.
See more

→
Speaking Part 3
4-5 minutes
You and the examiner will engage in a discussion of more abstract concepts and issues which will be linked to the topic you discussed in Part 2.
This part of the test is designed to assess your ability to engage in more complex conversation and express opinions and ideas in English.
See more

→
How to perform well on IELTS Speaking Test?
The IELTS Speaking Test can be a daunting experience for many test takers. Still, with the right preparation and mindset, it can also be a great opportunity to showcase your language skills and communicate effectively in English.
Here are some tips to help you perform well on the test:
Speak clearly and at a good pace.
It's important to avoid rushing through your answers or speaking too slowly. Try to find a comfortable pace that allows you to articulate your ideas clearly and confidently.
Practice your pronunciation.
Good pronunciation is essential for effective communication in English. Pay attention to your accent and try to correct any errors or weaknesses. Practising with native speakers or language tutors can be especially helpful.
Use a diverse vocabulary and sentence structures.
It will demonstrate your language skills and show you can express yourself differently. Don't be afraid to use more advanced vocabulary or complex sentence structures if you feel comfortable doing so.
Don't be afraid to ask for clarification.
Don't hesitate to ask the examiner if you don't understand a question or need further explanation. This way, you will show the examiner you can effectively communicate in real-life situations.
Use examples to illustrate your points.
It can make your answers more engaging and memorable and help demonstrate your understanding of the discussed topic.
Use your preparation time smartly.
When preparing to speak in Part 2, plan and make notes on the cue card to help you remember your points and organise your thoughts.
Remember that the examiner is not there to judge you.
The examiner's role is to assess your language skills, not to judge your opinions or ideas. Try to relax and speak as naturally as possible.
By following these tips and practising regularly, you can improve your performance on the IELTS Speaking Test and communicate more effectively in English.
SPEAKING RESOURCES