IELTS Speaking Test
On this page you will learn about the IELTS Speaking test and how to improve your speaking skills for a high score.
Note! IELTS Speaking test is the same for both Academic and General Training module.
We have provided you with: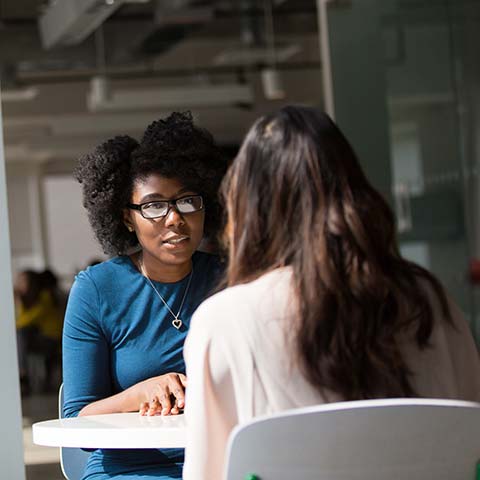 IELTS Speaking Test Format & Topics
The speaking test consists of an interview between you and an examiner. It will last between 11 and 14 minutes, and is divided into three parts which are described below.
Part 1
4-5 minutes
This part is about yourself, home, work, studies, job, your particular interest, sport/hobby/past time etc.
Practice answering sample questions on these everyday topics. Find topics down below.
TIP! Be polite and start with "Good morning!" or "Good afternoon!"
Work, education, your home, hometown
Transport and travel – car, buses, bicycles, taxis
Daily life questions – shopping, free time, routine, food
Media – television, newspapers, magazines, Internet, computers
Culture – books, films, music, language
Occasions and events – birthdays, festivals
People and society – family, friends
Past time and skills – skills, photography, cooking
Environment and places – seasons and weather, gardens and plants
Harder and more abstract topics – boats, actor/actress, pets, concerts, arts, childhood
Part 2
3-4 minutes
You will be given a card with a task and asked to talk on a particular topic. You will have one minute to prepare before speaking at length, for between 1-2 minutes.
This is how the task prompt you are given usually looks like:
Describe the thing you most like to do when you have some free time.
You should say:
what it is
what you do
what makes you enjoy the activity
and explain why this activity is important to you.
You will be given a pencil and paper to make some notes. The examiner then asks one or two follow-up questions.
We strongly recommend that you make notes of what you are planning to talk about. Make sure you always answer all the questions, otherwise you will lose points!
TIP! Practice giving a speech in two minutes.
TIP! Give long answers so there will be less time for the examiner to ask more difficult follow-up questions.
Describe an open-air or street market which you enjoyed visiting
Describe something you did that was new or exciting
Describe a journey (e.g. by car, plane, boat) that you remember well
Describe a person who has done a lot of work to help people
Part 3
4-5 minutes
You and the examiner will engage in a discussion of more abstract concepts and issues which will be linked to the topic you discussed in Part 2.
TIP! Thank you for your time! Goodbye!
Important! Make sure you always answer all the questions!
How to get high score in IELTS speaking test?
For achieving a high score, you need to demonstrate good speaking skills. In particular, you need to show good:
Fluency and coherence

– learn linking words

Lexical resource

– read news, books or watch TV series

Grammatical range and accuracy

– have a grammar book next to you to dip into every now and then

Pronunciation

– you are not expected to sound like a native speaker, you just need to sound clear enough
The four criteria are equally weighted.
You need to be relaxed since being too nervous can easily let you down. This is why you need to practice speaking with a friend, partner or why not to yourself so you could feel more comfortable. Try to do this as often as possible.
During practice you might encounter moments when you are short of words or struggle finding a proper word. Look it up afterwards to widen your vocabulary.
This is all because these IELTS speaking test topics are repetitive and you may as well get a similar speaking topic at the real exam and then it is better to be prepared for that. That's all what practice is about, isn't it?
Look up vocabulary for most common IELTS speaking topics.
However, the questions you need to answer could be sometimes quite silly. So you may feel that you simply do not know the answer, even in your native language! For that case, we have listed useful vocabulary for IELTS speaking to help you out.
You do not need to worry if you don't have an answer for every question, you just need to show your ability to interact with the examiner.
You can easily ask the examiner to specify the question or give the reason why you do not have a good answer. Feel free to express yourself as you like, just be sure to avoid simple 'Yes' and 'No' answers!
As said before, practice plays an essential role in preparing for the test. While you practice, we suggest you consciously pay attention to what you speak. Try to show a wide range of vocabulary, use different tenses and also using conditionals will certainly give you extra points.