IELTS Writing Test
On this page, you will learn about the IELTS Writing Test format and understand how IELTS Writing tasks are scored.
We have provided you with: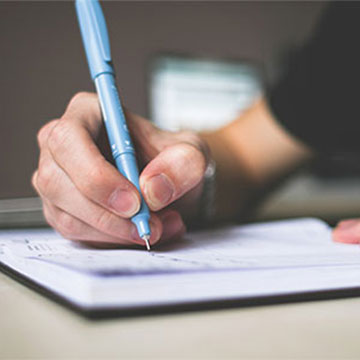 IELTS Writing Test Format – Academic vs General Training?
There are two types of IELTS Tests: Academic and General Training. Both test modules require you to complete two writing tasks.
In Writing Task 1, you are asked to write a report or letter of at least 150 words and in Writing Task 2 you need to write an essay using a minimum of 250 words. You will be given 60 minutes to complete the tasks.
To gain a better understanding of the main differences, see the following comparison:
IELTS Academic Writing
Duration: 60 minutes
Writing Task 1: Report
There are 5 types of reports:
Pie charts
Multiple chart and graph
Graph and table
Process diagram
Map and plan
Writing Task 2: Essay
There are 5 types of essays
IELTS Writing Task 2 Essay is the same for both the Academic and General Training writing test. However, in IELTS General Training module, the essay topics are a little bit easier.
For more details on the IELTS Test Format, see the British Council website.
How are IELTS Writing Tasks scored?
Both writing tasks are evaluated on a scale of 0–9, based on the four marking criteria:
Task achievement
Coherence and cohesion
Lexical resource
Grammatical range and accuracy
Each criterion gives 25% of your total score for the task.
The final score is reported as a band or half a band (e.g. 6.0 or 6.5).
IELTS Writing Task 1 is worth 1/3 of your total writing score, whereas Task 2 is worth 2/3 of your score. You should spend no more than 20 minutes on Task 1 and 40 minutes on Task 2.