IELTS General Writing Test
On this page you will find information on IELTS General Training (GT) module writing test and also some advice on how to prepare and develop your writing skills in the most efficient way.
You will also find:
IELTS Writing test format (General)
IELTS Writing test assesses your ability to write in response to a question or situation. In case you are not familiar with the writing test format, see the following table:
IELTS General Writing Test
Number of Questions
2 questions
Format
The topics used in the IELTS GT Writing test are of general interest. You need to complete 2 tasks:
Duration
60 minutes: 20 minutes on Task 1, and 40 minutes on Task 2.
For more details, see the IELTS Test Format on the British Council website.
How to prepare for IELTS Writing tasks?
Preparation always starts with taking the first step. So, you just need to start writing your first IELTS letter or essay! In order to master your writing skills most efficiently, follow these 5 steps:
Make yourself familiar with the writing test format

There are 2 tasks
Writing Task 1, a letter about everyday topics, 150 words
Writing Task 2, a discursive essay, 250 words

Learn about Writing Task 1 and Writing Task 2 in more detail
Take the first couple of practice tests

Start practice without limiting your time to one hour
At first, start with letter writing and then write an essay
Feel free to practice writing electronically, if that is easier for you. Then you can move on to practice writing by pencil and paper

Get feedback on your writing
Now, practice under exam conditions at least 3 times!

Print out the official answer sheet
Allow only 1 hour to complete the practice test
Take at least 3 writing practice tests to feel confident
Allow a bit of extra practice to get rid of your weak spots
And again, get feedback on each writing task by qualified IELTS trainers
Still hard to get started?
Writing is usually the most difficult part of the IELTS test and it often needs more attention. So, in order to succeed, it is important you practice writing essays and different types of IELTS letters.
You may think "Aggh! I'd rather take more listening and reading tests and then maybe practice writing when I have time left". This is what test takers often do. They simply want to ignore the writing tasks.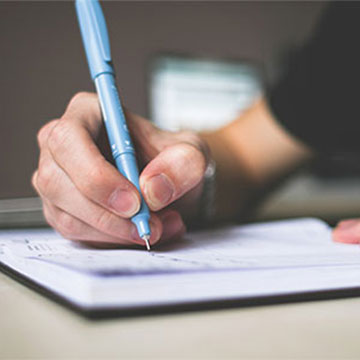 Taking the first step is always difficult, but don't worry. If you start writing and stay determined, you can overcome that writer's block with ease and you will be rewarded with success after a while. You just have to start!
However, even if you have decided to put your best foot forward and start writing your first writing task, it can be quite demotivating to realise that you have no idea of how good or bad your writing pieces are, what your mistakes are and what score you would likely get for them.
Moreover, you may even feel that there is no point to practice writing when it doesn't have much effect on your writing skills improvement. That's where the assistance from IELTS professionals come in to play.
Consider receiving help from qualified IELTS examiners/trainers
As said before, preparing for the IELTS Writing test could be quite tricky and difficult to get started with. Jumping right to writing letters and essays is a good way to get started, but only at the very beginning! Sticking just with writing and writing again isn't the most effective way to prepare.
Even though you may see some progress over time, improving writing skills only on your own is almost never efficient enough. You may skim through a ton of well-written and excellent model essays, read about great tips on various IELTS preparation websites, but these activities alone won't help you develop the skills you need to succeed in IELTS writing test.
There is no point wasting your time and money on the test just to discover that you were not that well prepared.
If you are a self-learner, it's definitely worth to seek help from an IELTS teacher before sitting the test. In that way, you will understand what your weaknesses are and what you need to improve.
Don't know any IELTS expert? Not a problem! Our qualified IELTS teachers who also work as examiners can help you and give personalised feedback on your writing that plays an important role in the improvement of writing skills.
Need help with IELTS writing? Let IELTS examiners help you!
See more
Average score of the IELTS writing test
According to the IELTS test statistics, writing is clearly part of the test where test takers perform the worst. Failing to achieve the target score in writing test is the main cause why there are so many people who need to retake the IELTS test.
To illustrate, have a look at the bar chart that compares test taker performance data in different test components in 2017.
As you can see, the students' results both in writing and speaking are the weakest. Although it might look scary at first glance, the good thing is that if you focus on improving your writing skills, your speaking improves as well. So it's like two birds with one stone!
If you are planning to go to English speaking countries like Australia, Britain, Canada or the USA for work experience or immigration purposes, there is usually a minimum score that is required for each of the four IELTS General Training test components. A score of 6 is often a bare minimum in this case.
So, you should not underestimate the IELTS writing test! Instead, let IELTS professionals help you and then you can learn from feedback. It is as simple as that!
Note that it is recommended that you take at least 5 IELTS writing practice tests (both Task 1 and Task 2) to see improvement. Even the IELTS official booklet says regarding the IELTS test that your score is unlikely to increase unless you make a significant effort to improve your English before taking the test.
Therefore, improving your writing skills is not an easy task, but achieving a high score is definitely possible if you take time to practice and stay determined.