IELTS General Writing Task 1: Letter Writing
In IELTS General Writing Task 1, you are given a task to write a letter requesting information or explaining the situation in the form of a formal, semi-formal or informal letter of at least 150 words.
Here is an example how the task prompt looks like:
WRITING TASK 1 (General)
You should spend about 20 minutes on this task.
There have been several complaints about the reception area where visitors to your company arrive. Your manager has asked you to suggest how the reception area could be improved.
Write a letter to your manager. In your letter
describe the complaints that have been made
say why the reception area is important
suggest how the reception area could be improved
Write at least 150 words.
You do NOT need to write any addresses.
Begin as follows:
Dear ... ,
Sample answer

→
How to write a letter for IELTS General Writing Task 1?
You must start by spending some time reading the instructions. You should spend at least 2 minutes planning your letter:
Read the instructions thoroughly
Identify appropriate style (formal, semi-formal or personal)
Brainstorm, make up your story, write down the main keywords and make sure you cover and clearly address all the points
Decide how to open the letter
Organise your letter into paragraphs
Use connecting words to link your ideas
Decide how to close the letter
Once you have quickly sketched a story in your head and also made supporting notes, it becomes easier to write exactly in response to the writing prompt and ensure that you fully follow the instructions.
Important notes:
How is IELTS General Writing Task 1 scored?
IELTS General Writing Task 1 gives you 1/3 of your total writing score, whereas Task 2 is worth 2/3 of your score. Hence the recommended time for both tasks: for Task 1 it is 20 minutes, for Task 2 it is 40 minutes.
Your writing will be evaluated on the four marking criteria:
Task achievement
Coherence and cohesion
Lexical resource
Grammatical range and accuracy
Each criterion gives 25% of your total score for the task.
For more detailed information, see the IELTS Writing Task 1 band descriptors.
Want to know your IELTS writing score?
➤
Send your tasks to an IELTS teacher today!
➤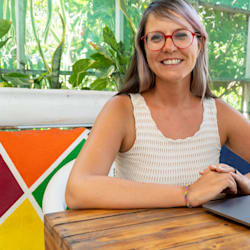 "I have 7+ years of IELTS teaching experience. I will correct your grammar and give suggestions for more appropriate word use. I will give you tips on how to answer the question in the way the IELTS examiners expect."

— Claudia, IELTS teacher from the UK
IELTS Letter Topics & Sample Letters
Instead of providing hundreds of IELTS letter topics, we have categorised them into 5 different IELTS letters, based on the purpose of writing.
Under each IELTS letter you will find:
Letter structure with useful vocabulary
A sample letter on a related topic that has been corrected and evaluated by an IELTS examiner
It is a lot easier to concentrate on different IELTS letters (such as complaint letters, request letters and so on) one by one as the structure, style, openings and closings vary.
Therefore, depending on what topic you are asked to write, use any relevant IELTS letter page respectively and the IELTS General Writing Task 1 letter will become much easier to write.
However, in case you do not know exactly what the differences are between formal, semi-formal and informal letters, we suggest you start reading about different types of letters first.
IELTS LETTERS