IELTS Problem / Solution Essay Sample (Corrected)
Even though doctors all over the world agree that fast food is bad for people's health, more and more people are eating it.
Why are more people eating fast food?
What can be done about this problem?
There are a lot of people who have argued over whether fast food is still as bad as thought and found in the end that dining ofon healthy food could possibly save them from upcoming health problems. However, there is another increasing number of people who do not seem to care so much and consume fast food more often.
On the one hand, it is understood that life tends to be very busy nowadays. Due to a huge revolution in technology, it has opened up many people more choices for many people and thetime has become the most valuable resource overall. In order to save more time and rather progress with work than spending too much time foron lunch, the eating time has become tosomething when many people just want to quickly fill themselves up and get back to work. This is where fast food comes into play as a simple, fast and time-saving solution. One reason why people prefer fast food is that it is fairly easy to obtain. Moreover, it is often cheaper than a proper cooked meal and the expected level of quality is everywhere more or less the same.
On the other hand, fast food does not equal healthy food. This is a major drawback, which has made thesociety to concern moremore concerned about the future of people's health. I personally believe that keeping people more informed about the disadvantages of fast food would help to araise awareness of the problem. Therefore, advertising a healthy lifestyle could be one of the first steps to dealfor dealing with this issue. Secondly, not only should doctors be the ones who stand foradvise on balanced eating, but famous people, as good examples, may well contribute to solving this problem.
In order to save people from health problems, a good and balanced diet is the first thing to concentrate on. Even though many people still prefer fast food, a lot could be done to influence their decisions starting with advertising a healthy lifestyle and setting good examples to follow.
(331 words)
6.5
Band Score Estimate
(prior to corrections)
Brief comments:
A bit long and a bit discursive; not quite straight-forward enough
Want to send your own essay for evaluation?
➤
Send your tasks to an IELTS teacher today!
➤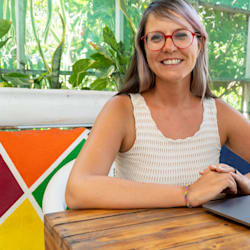 "I have 7+ years of IELTS teaching experience. I will correct your grammar and give suggestions for more appropriate word use. I will give you tips on how to answer the question in the way the IELTS examiners expect."

— Claudia, IELTS teacher from the UK