IELTS Two-part Question Essay Sample (Corrected)
Millions of people every year move to English speaking countries such as Australia, Britain or America, in order to study at school, college or university.
Why do so many people want to study English?
Why is English such an important international language?
English speaking countries like Australia, the USA and Britain are becoming amore popular destinationdestinations for students to study English. In this essay, I will discuss why English is such an important language and why so many people want to study this languageit.
English is a door-opener to well-paid jobs and the most used language among travellers, that'swhich is why so many students desire to study English as a second language. Many international companies require English skills as a minimum requirement for a job. A lot of people are studying English just to have a better changechance to get a well-paid job. Travelling is another reason why many people study English; to travel without English skills can be very challenging, especially with customs onin airports. English is quite handy in a globalised world where English is the standard.
ButHowever, English is not just important for individuals.it It is also a very important language for since andworldwideoperating companies. For example, scientific research is done in English, so that the research can be published easiermore easily to a global audience. Without a global audience, only a fraction of scientists would be able to finance themselfthemselves.
To sum up, without English the world would be running less smoothly from applying for an international job to travelling: everything would be much harder. Scientific progress and international companies would be almost not possibleimpossible. I think English is irreplaceable for our societyirreplaceable.
(233 words)
5.5
Band Score Estimate
(prior to corrections)
Brief comments:
You

must

write at least 250 words.
The task asks two questions and wants reasons. Not just one reason.
Want to send your own essay for evaluation?
➤
Send your tasks to an IELTS teacher today!
➤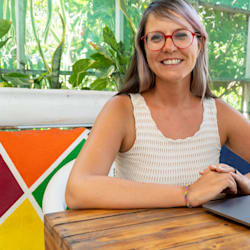 "I have 7+ years of IELTS teaching experience. I will correct your grammar and give suggestions for more appropriate word use. I will give you tips on how to answer the question in the way the IELTS examiners expect."

— Claudia, IELTS teacher from the UK