In this article, we will explain on what basis and how IELTS examiners check and assess your Writing Task 2 Essay.
In simple terms, your essay is checked and evaluated on a band scale from 0 to 9 according to IELTS writing band descriptors and on the four IELTS writing marking criteria:
Task Response
Coherence and Cohesion
Lexical Resource
Grammatical Range and Accuracy
Each of these criteria will impact your overall score in Task 2.
At first sight, these marking criteria only say a little. Therefore, let's break it down and see what each of these criteria actually means:
Task Response
It means:
Did you form a position in relation to the topic question or statement?
Did you support your position with evidence (facts or views)?*
Is there enough content included? (at least 250 words)
*Evidence can include examples from your experience or knowledge.
Coherence and Cohesion
It means:
Is your view presented clearly and fluently?
Is your response well organised?
Are there different views or points of information well connected?
Are there connecting words, such as: 'so', 'and', 'but', or even more complicated versions of these words: 'therefore', 'furthermore', 'although'?
Is the view that you develop clear to the reader?
Lexical Resource
It means:
Is there a wide range of vocabulary (nouns, adjectives, adverbs)?
Is the vocabulary used correctly?
Grammatical Range and Accuracy
It means:
Is there a wide range of grammar structures used (correctly)?
Is your grammar error-free, and is the punctuation correct?
To sum up, your answer must relate exactly to the given topic. For example, if you write an excellent essay that is off-topic, you cannot get a good score. On the other hand, if you use very simplistic language, you will not get a high grade either.
Therefore, to attain a high score in IELTS Writing Task 2, you must correctly address the task, clearly organise the response, connect your ideas, show a wide vocabulary and use grammar correctly.
Want to get your IELTS essay checked?
➤
Send your tasks to an IELTS teacher today!
➤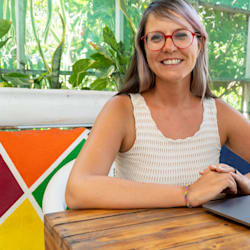 "I have 7+ years of IELTS teaching experience. I will correct your grammar and give suggestions for more appropriate word use. I will give you tips on how to answer the question in the way the IELTS examiners expect."

— Claudia, IELTS teacher from the UK
If you want to see more on IELTS Essay, please see: